THE FIRST OF ITS KIND
---
Achieve virtually any look and layout from within the one and only X WordPress Theme. Stacks allow you to choose from multiple, completely unique designs with just the click of a mouse, and there are currently four Stacks to choose from (with more in development).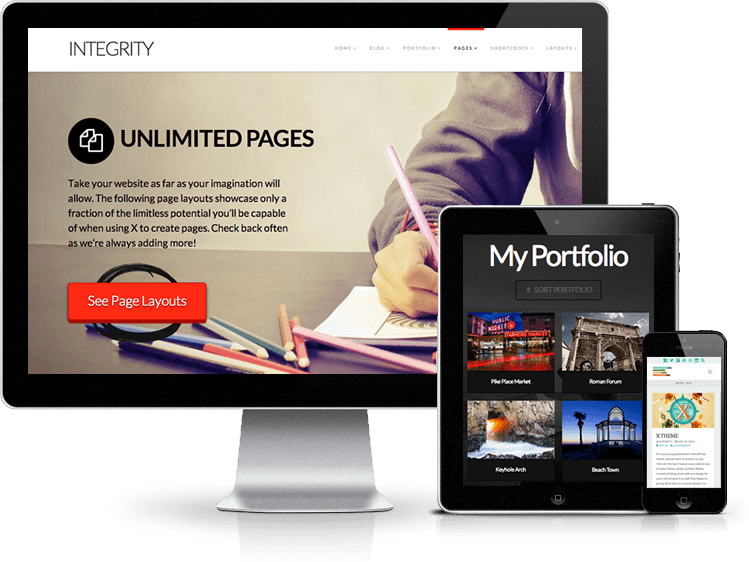 INTEGRITY
Integrity is a beautifully crafted, all-purpose design that works equally well for creatives and professionals alike. Clean lines give it an understated elegance that feels current and fresh without being too flashy.
HIGHLIGHTS
Great For Business Sites
Good All-Purpose Design
Dark Version Included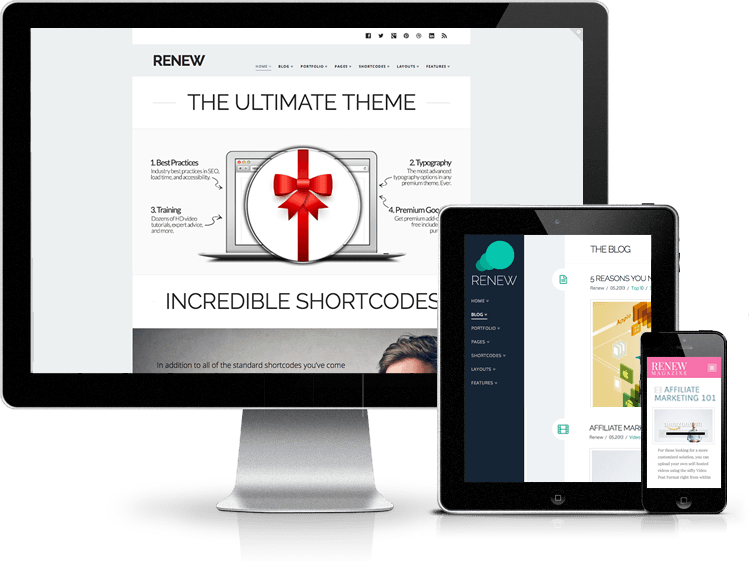 RENEW
You don't have to look far to see that flat design is in right now. Renew gets out of the way and showcases your content in a clear, concise manner.
HIGHLIGHTS
Flat Design
Creative Blog Style
Clean Lines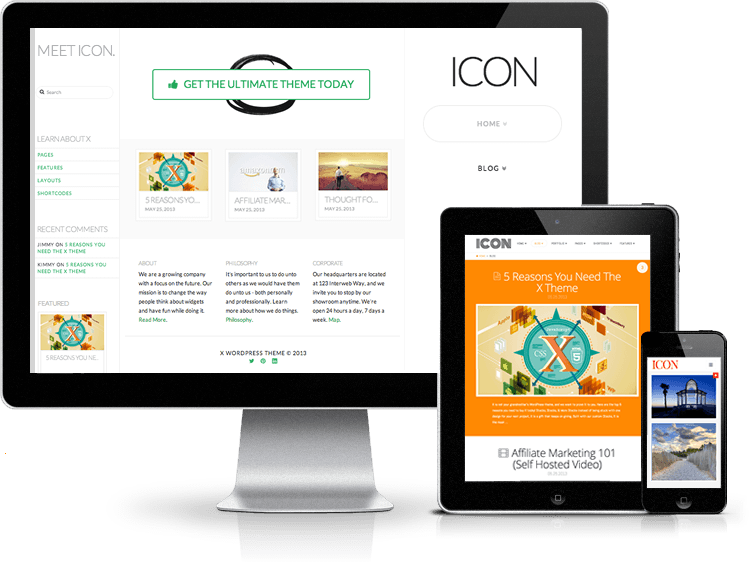 ICON
Inspired by modern blogging networks, Icon is our minimal design that allows the written word to take center stage. Paired with our extensive theming options, it can be easily altered to fit your personality and reflect your style.
HIGHLIGHTS
Modern And Minimal
Custom Colors For Post Formats
Unique Layout Options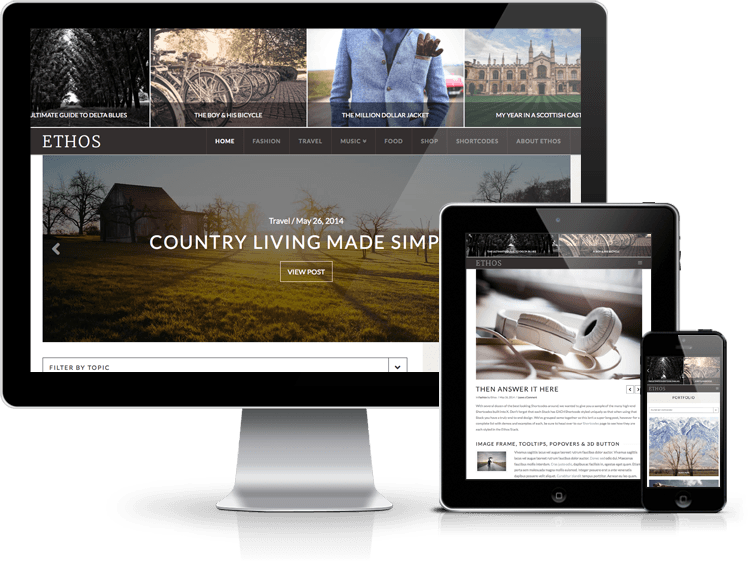 ETHOS
Create stunning, engaging, and truly one of a kind magazine sites with Ethos. With several unique features configured specifically for magazine and newspaper sites, Ethos will engage your audience and promote clickthroughs.
HIGHLIGHTS
Featured Carousel
Real Time Category Filtering
Alternate Index Titles
X WordPress Theme – Overview
Stacks – X includes multiple unique designs inside of one powerful theme, and we refer to these designs as "Stacks." There are currently four Stacks available in X, with more on the way. It's like buying one theme and constantly getting access to new designs all the time! The links below take you to the main demo for each Stack, however we have created multiple unique demos for each Stack so be sure to check them all out.
Extensions – Easily build upon the firm foundation X has already laid forth with our incredible new Extensions. Within the X ecosystem, Extensions are comprised of plugins built by our staff to work seamlessly with X, as well as third party plugins by developers we've partnered with to bring you great features that we've integrated tightly into the theme. This keeps X lean for those who might not need a certain feature and as efficient as possible for those who do! Be sure to check out a full list of our Extensions for more information on these amazing features that are included for free with each unique purchase as well as this FAQ explaining how the licensing works.
Experts – X was built upon the input of industry-leading experts. We consulted numerous individuals and asked them what sort of features they wanted to see in a theme from an SEO standpoint, design, feature-set, et cetera, and built their suggestions right into the theme. Forget the marketing speak, X truly delivers on what it promises.
Customizer – Being on the cutting edge of WordPress development is something we wanted to do from the start. Because of that, we made sure that we avoided the use of clunky additional admin panels and instead, opted to utilize the native WordPress Customizer (or rather, our souped up version of the WordPress Customizer). With this setup, you can preview all of the changes you make to your site live without any need to switch windows or refresh the browser over and over again. When you're happy with your changes, select "Save & Publish" and your updates will go live. Within the WordPress Theme Customizer, the following can be edited:
Comments